Invited Speakers
Dr. Nabil Omar
Professor
Agricultural Research Centre, Soils, Water and Environment Res., Inst., Giza, Egypt
---
Speech Title:
Alleviation of some environmental stress using plant growth rhizobacteria (PGPR) in Egypt
Abstract: Environmental stress causes great losses in crop production where abiotic factors like soil salinity, drought and extreme temperature constitute the most fatal problems. Abiotic stress tolerance of plants is a complex process involving modifications at many levels. Abiotic stress is considered as the principal cause of crop yield loss worldwide, it has been reduced average yields of major food and cash crops by more than 50%. Thereby, causing the most fatal economic losses in agriculture. Because it often induces several morphological, physiological, biochemical and molecular changes that negatively affect the overall plant performance. Primed plants can be enhance tolerance to stress by certain chemicals or biological agents, e.g. plant growth promoting rhizobacteria (PGPR). These microbes can promote plant growth by regulating nutritional and hormonal balance, producing plant growth regulators, solubilizing nutrients and inducing resistance against plant pathogens. Induced systemic tolerance (IST) has been achieved in many drought stressed plants after inoculation with several PGPR strains. Egypt is one of the countries that suffer severe salinity problems. For example, 33% of the cultivated land, which comprises only 3% of total land area in Egypt, is already salinized. Climate changes will lead to a decline in the productivity of Egypt's major agricultural crops such as wheat by 18%, rice by 11% and soybeans by 28% due to high temperatures and expected shortage of available water resources that affecting plant productivity.
Sinking and salinity of many lowland agricultural lands in the delta due to rising sea level. High temperatures will increase insects and diseases that cause damage to agricultural crops. This will result in a decline in agricultural production by 8%. The main concern facing the scientists is how to invest the known methods and subsequent data into useful practices for sustainable crop production how to use them to reduce the incidence of plant diseases, the input of chemical fertilization, and the emission of the greenhouse gases and how to enhance plant performance especially with ongoing climate change. PGPR can provide a potential and inexpensive management tool that help plants to grow and combat the problems of drought and other climate related problems. In Egypt many researchers are working on alleviation the environmental stress by PGPR. Here, we will present some of positive results further.

---
Prof. Margarida Saraiva
Management Department, School of Social Sciences, University of Évora and BRU-UNIDE/ISCTE-IUL, Portugal
---
Speech Title:
SQual4Agri, a hybrid and multidimensional conceptual model as a step toward improvement in small family based agricultural organization
Abstract: This presentation is based on a recently published article (Simões et al., 2021) and a PhD Thesis (Simões, 2020), on a hybrid and multidimensional conceptual model SQual4Agri for improvement of those small farming units by bringing together concepts of quality management, farmers' satisfaction evaluation and production capabilities, in Cape Verde. Given that in this country a small family farming production suffers continuously from limited essential resources such as water and soil for a steady development and this situation is further aggravated by the lack of financial resources, the model we have built was the result of an inquiry based on Focus Group study, carried out in 2019, with 15 farmers. In this Island of Atlantic archipelago, Cape Verde, bearing in mind the need of improving small scale farming, this is a step toward improvement in small family based agricultural organization, namely in productivity, responsibility sharing, communication and quality management. With the application of this model, we intend to help local farmers to improve their capabilities in organization and development of business. But this is a beginning of a long road for Cape Verde toward a new development in the agricultural industry through quality management, continuous improvement, with a purpose of achieving the sustainability.
Citation:
1. Simões, E.; Saraiva, M.; Basch, G.; Pires, A.R.; Rosa, Á.; Chaleta, E. (2021) Hybrid Conceptual Model for Assessing Quality, Production and Satisfaction (SQual4Agri), in Agricultural Production Units, in Cape Verde. Sustainability, 13, 1-37. https://dx.doi.org/10.3390/su13010037
2. Simões, E.B.O.M. (2020). Qualidade, Produção e Satisfação: Proposta de um Modelo Teórico Aplicado às Unidades de Produção Agrícola na Barragem do Poilão em Cabo-Verde. Doctoral Dissertation, Escola de Ciências e Tecnologia, Universidade de Évora, Évora, Portugal.
---
Dr. Mingjie Chen
Distinguished professor
College of Life Sciences, Xinyang Normal University, Xinyang, Henan, China
---
Speech Title:
The advance in tea cuticle research
Abstract: With global climate changes, it is projected that the frequency and strength of extreme weathers, such as heat wave, freezing temperature, and drought, will raising. Environmental stresses not only cause great losses in crop productivity but also degrade food quality. Breeding for resilient new germplasms is an effective strategy to cope with climate changes. Abiotic stress tolerance of plants is a complex trait involving modifications at many levels. Plant cuticle is the interface between plants and their surrounding environment, it reduces non-stomatal water loss, protects plants from ultraviolet radiation, minimizes pollutant retention on leaf surfaces, defends against bacterial and fungal pathogens, participates in plant-insect interaction, regulates pollen-pistil interaction, and prevents organ fusion. These diverse functions are realized through the physical and chemical properties of cuticular waxes. In this talk, I will present our recent research progress in tea cuticle, including: how wax changes with leaf development, how drought stress modify cuticle, what are the structure-function relationships of cuticle, and how to measure the cuticular transpiration from different leaf surfaces and subcuticular compartments etc.
---
Dr. Sylwia Lewandowska
Professor, Department of Genetics, Plant Breeding and Seed Production, Wrocław University of Environmental and Life Sciences, Poland
---
Speech Title:
Increase soybean productivity with different seed stimulation technologies
Abstract: Today, soybean is seen worldwide as a basic protein plant, used both for human food and valuable animal feed. Success in soybean cultivation, like in other crops, depends to a large extent on the selection of the right variety for the crop. Despite the many advantages of soybean, the plant has some adaptive limitations, e.g. lack of tolerance to cold. So we should seek soybean varieties that are resistant to abiotic stress, or increase their resistance to this stress through stimulation of seeds before sowing, or through the use of appropriate preparations (through soil, foliage, seeds), e.g. biostimulators of plant growth. In this study, synergistic effects between Near Infrared Radiation (NIR) and algal extracts on the germination of soybean seeds (Glycine max (L.) Merrill) were sought. NIR generally works at the quantum level (affects the atomic and molecular level), but also at the level of cells and tissues in plants. It has long been known that the use of near infrared light improves seed germination, although the mechanism of this effect is not yet fully understood. NIR radiation is captured by special photoreceptors (i.e. phytochromes, cryptochromes and phototropins), and subsequent plants generate a wide range of specific physiological responses through these receptors. A special NIR system was used to irradiate soybean seeds. To the best of our knowledge, this radiation was used for the first time to biostimulate soybean seeds. Earlier, the influence of other light ranges (e.g. green, red, blue) on photosynthetic activity, growth and yield of different plants, except for seeds, was analysed. NIR, the illumination time of 3 and 5 minutes, was also combined with the use of algae extracts (50 and 100%) used to soak soybean seeds to stimulate seedling growth. Algae are known as a rich source of biologically active compounds that can stimulate plant growth. They are an extremely valuable raw material due to the presence of many bioactive substances, which have a wide range of applications in many industries as well as in agriculture. Algae contain a rich set of phytohormones (e.g. cytokinins, auxins, abscisic acid), amino acids, micro and macroelements, polyphenols, pigments, vitamins, which are responsible for the growth and development of plants and increasing resistance to pathogens and abiotic factors of the environment (e.g. temperature change, frost, precipitation, drought, etc.). The study confirmed that the applied physical (NIR) and chemical (algae extracts) factors stimulate the germination ability of soybean seedlings, which results in faster and uniform plant emergence. NIR, irradiation time 5 min, had a more positive effect on the stimulation of seedlings of the examined species. The 100% algae extract had a more stimulating effect on the tested seed material, while the differences between the concentrations were statistically insignificant.
---
Dr. Affendy Hassan
Forest Plantation and Agroforestry Programme, Faculty of Tropical Forestry, Universiti Malaysia Sabah, Malaysia
---
Speech Title:
Measuring crop roots using combination of root anatomical and histochemical techniques in intercropping systems
Abstract: Root distribution and competition is often neglected, as roots are hidden in the soil and morphologically look similar, making any distinction between species challenging. As plant roots are crucial for resource uptake, the growth and distribution of roots in the soil determine their ability to use and compete for water and nutrients. This makes investigation on the manner in which intercropping affects root distribution and growth crucial. The quantification of the root fraction from individual species in intercropping is restricted due to methodological challenges. The objectives of this study were to develop and test an anatomical key using histochemical staining of cross sections to identify roots to the plant species level; and (ii) to demonstrate that we could use this method to quantify the proportion of individual plant roots from different intercropping combinations. From our recent study, it is confirmed that root anatomical and histochemical methods was shown to be a useful and simple method for studying root interactions in intercropping.
---

Dr. Md. Abdul Karim
Professor
Laboratory of Microbiology, Department of Botany, University of Dhaka, Bangladesh
---
Speech Title:
Diversity and seasonal dynamics of bioaerosols in CAPITAL city
Abstract: Air pollution in capital city Dhaka has gone higher than Mexico-city and Mumbai killing thousands prematurely each year. According to the Department of Environment (DoE), the density of airborne particulate matter (PM) reaches 46 µg/m3 during December-March period, the highest level in the world.

Airborne microorganisms in the Dhaka city are extremely important because of the economic and health problems they may cause. Sneezing, talking, laughing, falling hair, contaminated paper and coined currency exchange, using soiled laboratory coats, as well as shedding from hands and arms contributed to the microbial contamination in the atmosphere. Monitoring the microbial population in the atmosphere of Dhaka city during whole year is important for discovering possible emerging sources of contamination. For this reason Dhaka city, where public gathering is high is selected for the present work to study the bacterial abundance in air that could be a causal agent of different human diseases.

The aim of this study was to analyze the composition of the bacterial community in the air of Dhaka city using a culture-dependent plate exposure technique and air sampling with filter. The 16S rRNA genes were amplified directly from the isolates with universally conserved and bacteria-specific rRNA gene primers. The PCR products were screened by restriction fragment length polymorphism and representative rRNA gene sequences were determined and sequenced. Seven air-sampling sites were taken from outdoors and various work environments including indoor airport, market, bas station, railway station, lunch terminal, hospital and Curzon hall area. Exposed plate method and air sampler were used for sampling at the breathing zone about 1.5 m above the ground level and Meteorological factors such as relative humidity, temperature, and light intensity were measured by portable data logger.

The relative humidity was 34 - 66 %, and temperature 17.3 - 43ºC, and light intensity varied between 335 and 19380 Lux. An average value of 2750 bacterial CFU/m3 was found at Dhaka city in different seasonal time. In Curzon Hall area 1661 bacterial CFU/m3, in Dhaka medical college and hospital 1811 bacterial CFU/m3 were found while, in Kamlapur railway station 4284 CFU/m3 was found, cause in the highly populated and traffic crowded area.

A total of 58 isolates were selected for further study on the basis of their colony morphology and frequency of presence onto the agar plate. All isolated bacterial strains were Gram-positive and under 12 genera viz. Bacillus (63.79 %), Staphylococcus (6.89%), Planococcus (6.89%), Kocuria (5.17%), Micrococcus (3.45%), Planococcaceae (1.73%), Janibacter (1.73%), Acinetobacter (1.73%), Arthrobacter (1.73%), Microbacterium (1.73%), Exigubacterium (1.73%) and Deinococcus (1.73%). The distribution of predominant airborne bacteria varied greatly between different stations and seasons and was limited by environmental parameters, as well as human activities. Highest bacterial diversity was found in the air in July 2011 during the study.

These results highlight the difficulty in understanding and interpreting the microbial structure of these communities, and consequently, more attention should be paid to the conservation of our city environment.

Key words: Bioaerosols, seasonal variation, capital city
---
Prof. Pierluigi Plastina
University of Calabria, Italy
---
Speech Title:
Lipophenols from olive plant: occurrence and properties
Abstract: Phenolic compounds present in olive and extra virgin olive oil (EVOO) are assumed to contribute to the health benefits associated with the consumption of EVOO. Tyrosol and hydroxytyrosol are among the major phenolic components of olive and EVOO. They are present in their free form as well as in the esterified forms, mainly as secoiridoid derivatives (ligstroside and oleuropein, respectively) [1]. Recently, hydroxytyrosyl oleate (HtyOle), a lipophilic derivative of hydroxytyrosol, has been identified in olive oil and by-products [2,3]. Furthermore, HtyOle displayed anti-inflammatory, antioxidant and tissue regenerating properties in in vitro cell models [3,4]. This compound is a member of lipophenols, an emerging subclass of phenolic compounds characterized by the presence of a lipid moiety. Due to their lipophilicity, they show higher adsorption and bioavailability than polar phenolic compounds [5,6]. In this lecture, the most up-to-date research studies in the area of olive lipophenols will be discussed.

References:
[1] Visioli, F.; Davalos, A.; López de Las Hazas, M.C.; Crespo, M.C.; Tomé-Carneiro, J. An overview of the pharmacology of olive oil and its active ingredients. Br. J. Pharmacol., 2020, 177, 1316-1330.
[2] Lee, Y.Y.; Crauste, C.; Wang, H.; Leung, H.H.; Vercauteren, J.; Galano, J.-M.; Oger, C.; Durand, T.; Wan, J.M.-F.; Lee, J.C.-Y. Extra Virgin Olive Oil Reduced Polyunsaturated Fatty Acid and Cholesterol Oxidation in Rodent Liver: Is This Accounted for Hydroxytyrosol-Fatty Acid Conjugation? Chem. Res. Toxicol., 2016, 29, 1689-1698.
[3] Plastina, P.; Benincasa, C.; Perri, E.; Fazio, A.; Augimeri, G.; Poland, M.; Witkamp, R.; Meijerink, J. Identification of hydroxytyrosyl oleate, a derivative of hydroxytyrosol with anti-inflammatory properties, in olive oil by-products. Food Chem. 2019, 279, 105-113.
[4] Benincasa, C.; La Torre, C.; Plastina, P.; Fazio, A.; Perri, E.; Caroleo, M.C.; Gallelli, L.; Cannataro, R.; Cione, E. Hydroxytyrosyl Oleate: Improved Extraction Procedure from Olive Oil and By-Products, and In Vitro Antioxidant and Skin Regenerative Properties. Antioxidants 2019, 8, 233.
[5] Bayrasy, C.; Chabi, B.; Laguerre, M.; Lecomte, J.; Jublanc, E.; Villeneuve, P.; Wrutniak-Cabello, C.; Cabello, G. Boosting antioxidants by lipophilization: A strategy to increase cell uptake and target mitochondria. Pharm. Res., 2013, 30, 1979-1989.
[6] Yin, F.; Hu, X.; Zhou, D.; Ma, X.; Tian, X.; Huo, X.; Rakariyatham, K.; Shahidi, F.; Zhu, B. Hydrolysis and Transport Characteristics of Tyrosol Acyl Esters in Rat Intestine. J. Agric. Food Chem. 2018, 66, 12521‐12526.
---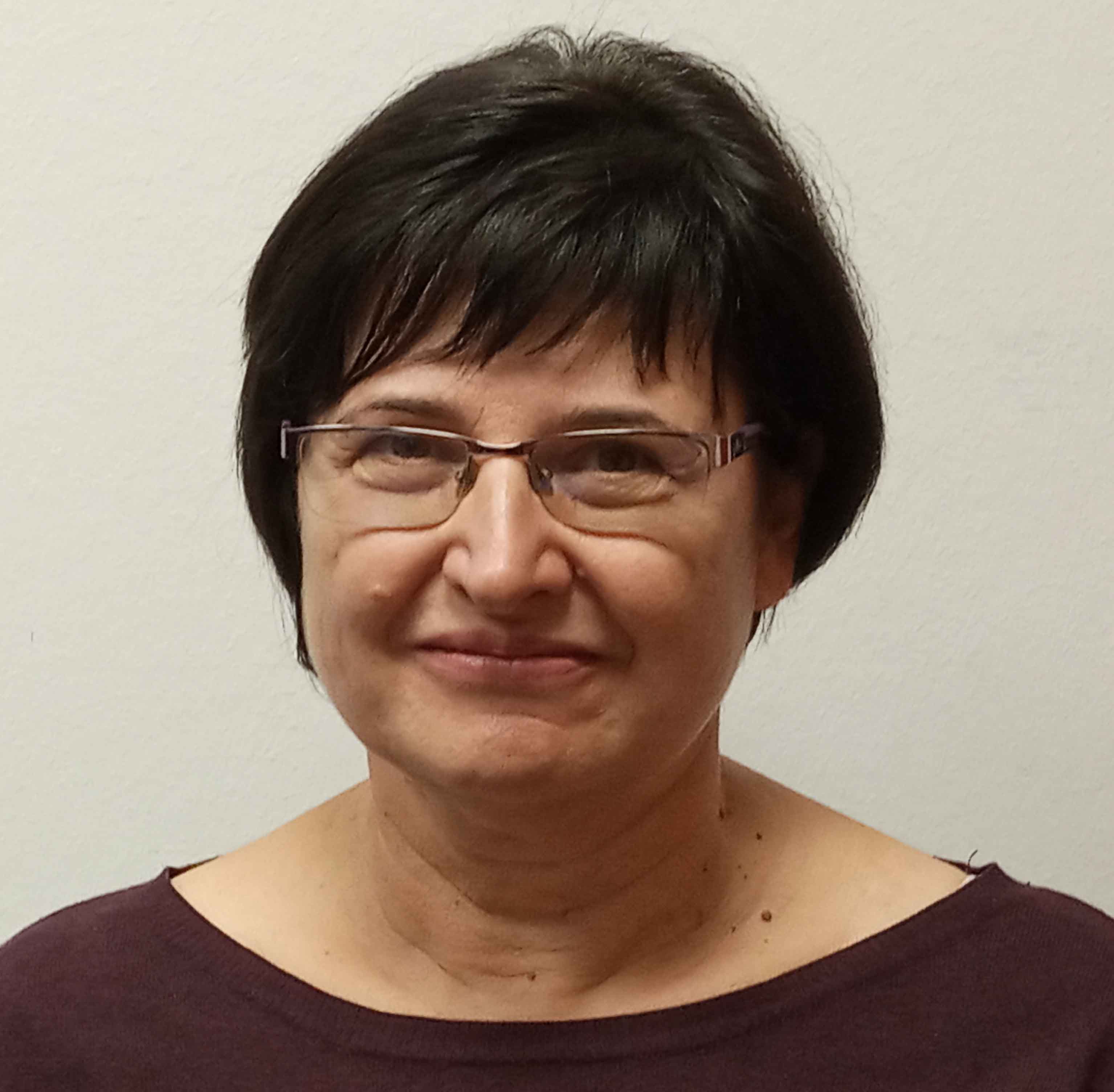 Jolan Csiszar
Associate professor
Department of Plant Biology, Faculty of Science and Informatics, University of Szeged, Szeged, HUNGARY
---
Speech Title:
Glutathione transferases and glutathione redox status in tomato roots under stress
Abstract: Glutathione transferases (GSTs) are a diverse group of antioxidant enzymes. Their most known function is the detoxification of endogenous or exogenous harmful molecules by conjugation of glutathione (GSH). Numerous GSTs also have glutathione peroxidase (GPOX) activity reducing lipid peroxides, and are involved in membrane integrity maintenance. Glutathione is the master regulator of the reduction - oxidation (redox) states in cells, but reactive oxygen species (ROS), non-enzymatic and enzymatic antioxidants all contribute to the redox homeostasis. Cytosolic GSTs may represent up to 2% of the soluble protein in plant cells. In Solanum lycopersicum a total of 90 GST genes were identified. We aimed to compare the stress responses of two tomato cultivars (Moneymaker and Ailsa Craig), particularly regarding to the relationship between the redox potential and the diverse GST enzyme family. Osmotic and salt stresses and salicylic acid treatments were applied to trigger redox changes. Generally, cv. Moneymaker can be characterized by lower ROS and lipid peroxide levels, higher ascorbate (ASC) and GSH contents, more negative glutathione redox potential and higher GST and GPOX activities than cv. Ailsa Craig. Besides higher transcript abundance of genes involved in recycling of ASC and GSH pools, large number of SlGSTs were expressed at higher level in cv. Moneymaker even under control conditions compared to those in cv. Ailsa Craig and were induced more by the stresses. However, several genes expressed in cv. Moneymaker on extremely high level were induced by stress treatments also in cv. Ailsa Craig and stronger correlation with redox changes was observed in that cultivar. SlGSTs with high expression levels or showing strong positive or negative correlations with redox potentials presumably have important roles in stress responses. Their further investigations and molecular characterization may lead to new insight in improving stress tolerance of tomato and other crops.
---
Dr. (Paul) Long Cheng
Lecturer in Livestock Nutrition and Grazing Management
Dookie Campus, The University of Melbourne, Australia.
---
Speech Title:
Use of precision agriculture technology to improve the estimation of livestock greenhouse gas emissions
Abstract: Greenhouse gas emissions (GHGe) cause pollution and contribute to climate change. The livestock industry is a key contributor to GHGe in global agricultural production. For example, methane emitted from cattle has a global warming potential of 25 carbon dioxide equivalent, and it has 12 years of life-time. At a small scale, such as at a herd level or an experimental setup, there are many methods and technologies that can be used to quantify or estimate livestock GHGe through using sophisticated equipment (e.g. respiration chamber), and bio-marker (e.g. Sulfur Hexafluoride). However, at a large scale, such as at an industry or a country level, mathematical modelling is the only practical way to estimate GHGe from livestock. While multiple GHG empirical models have been suggested by the Intergovernmental Panel on Climate Change (IPCC) and other authors, the reliability of the estimated outcome is largely depending on the accuracy of input activity data (e.g. livestock inventory). Therefore, this short review will explore and discuss opportunities and challenges of using precision agriculture technology, such as use CDAX Pasture Meter to qualify the herd intake and use the walk-over-scale to quality liveweight change in a large number of animals, to improve the estimation of livestock GHGe in a large scale.
---